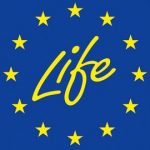 The main purpose of the LIFE4FIR project (LIFE18_NAT_IT_000164 – Decisive in situ and ex situ conservation strategies to secure the critically endangered Sicilian fir, Abies nebrodensis) is to increase genetic diversity and improve the conservation status of the population of Abies nebrodensis, that is actually seriously endangered (the residual population is composed only by 30 adult specimens). This species is in fact subject to a dramatic genetic erosion and scarce natural regeneration.
The purpose of the LIFE4FIR project will be pursued by achieving the following specific objectives:
supporting and protecting the remaining adult trees and the few young plants resulting from the natural regeneration of Abies nebrodensis directly in their natural habitat;
restore the dynamic structure of the population through the implementation of a reforestation plan based on the use of selected seedlings. This implies the achievement of the following secondary objectives:

nursery production of healthy, vigorous, pure and outbred seedlings;
establishment in suitable sites of reforestation areas meant as re-diffusion cores of the species;
creation of a clonal orchard suitable for the production of improved seeds in the future;

ex situ conservation through the implementation of a seedbank and a cryobank for long-term conservation of seeds, pollen, isolated embryos and embryogenic callus lines of Abies nebrodensis;
clear identification of measures to support the activities even after the end of the project and to define a strategy for the future application of the LIFE4FIR methodology to other endangered conifers in Europe.